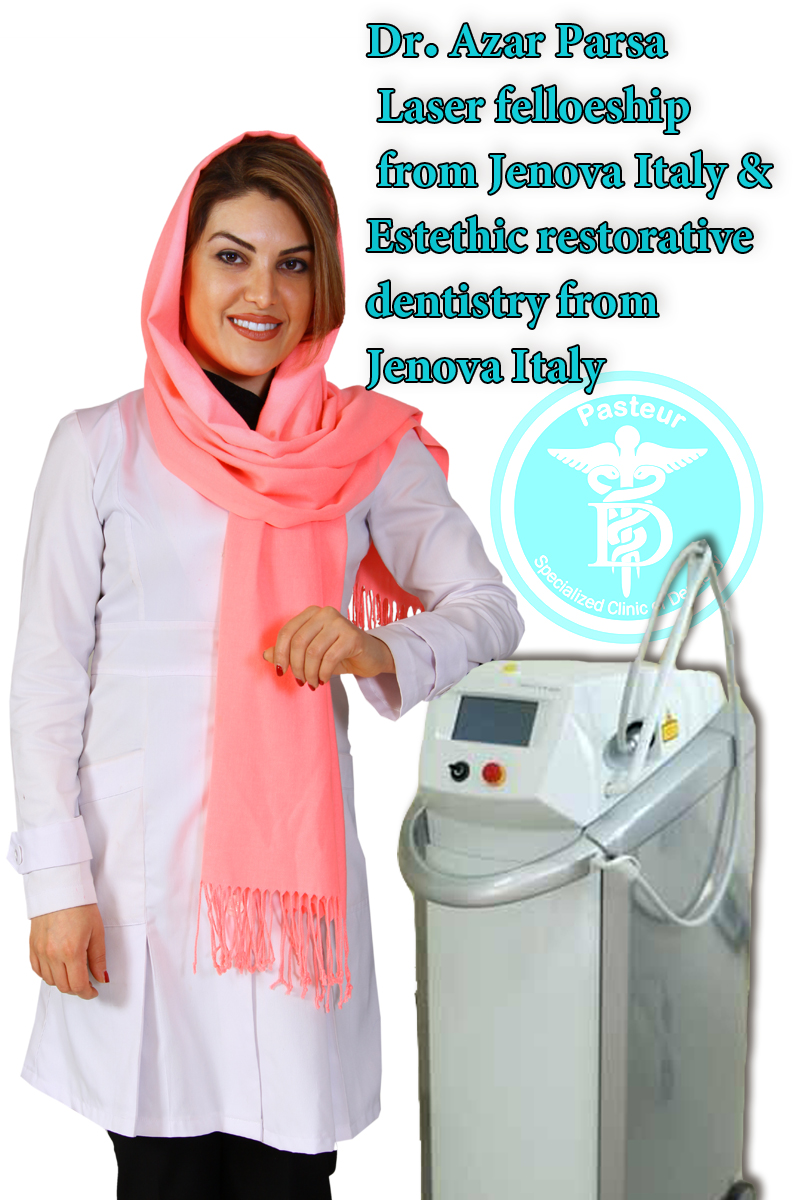 What is laser?
The "laser" word is summarized form of "light amplification stimulated emission of radiation". A powered light which is in the form of a very narrow parallel rays radiated by specific wavelength. This powered light provides a kind of energy that has several usage in medical science. laser effect is directly and indirectly by water molecule because of its absorption in the target tissue and making a thermal effect on target's cells and molecules.
Attention : all the laser in use of the dentistry are on the infrared group and are not be seen by eye. That red light that is seen on images and while working is the indicator laser or guide machine which shows that where is radiation laser ray placed.
There is just argon laser that because of being in the visible spectrum can be seen and becauseits usage is not much it wouldn't be used very much.
Laser usage on the dentistry:
Distinguish the decay and tartar
One of the newest methods in on time distinguishing the decays and dental tartar is the fluorescence usage. In this technique laser light is radiated to the biologic tissue and if there is any bacteria metabolic action this laser can bring a reflection to the machine by fluorescence effect's induction . machine can help to distinguish the decay or tartar by transferring the luminous intensity to a number.
These machines kinds can be pointed as diagnodent device and a feedback system "Er:YAG Kavo KEY3" .
There is on this 2 devices they used a 'nm655″ red diode laser with an intensity that is lower than "mW1". This light is radiated by a central fiber on tooth and the fluorescent light came back to the device by the fibers that put there in the circumferential form around the central fiber.
On this level signal that is back is analyzed and transferred to a numerical scale from 0-99.
The device monitor although shows the measures every moment , shows the maximum saved number.
Fluorescent answer happening  is known as presence of bacteria products like porphyrins and the other light lover factors in decay and tartars under gum.
On this method the diode 655 laser radiation is used , this method's preference on the other methods is the point that on this method because of new high accuracy techniques distinguishing the possibility of decay is not impossible for your dentist.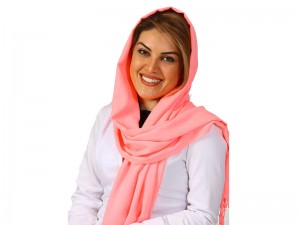 Tooth sensitivity
Increasing tooth sensitivity  is one of the most common reasons of visiting a dentist. there is several ways to solve this problem like using anti-sensitivity toothpastes , fluoride gels and dental adhesives. Using some kind of laser is very effective too. For example 810nm diode laser radiation on tooth surface by 1wat power and in an untouchable vertical form about 30-60 seconds per use can decrease the sensitivity in an excessive measure, studies recommended this process to be continued with 2 weeks space for improving the results in a better way.
ER-Yag laser's usage in low doses is one of the most common ways to treat solve this problem that the positive effects and its permanent treat is proved , this laser treatment could not remove the ache due to the tooth sensitivity in all the patients.
۳- whitening tooth
One of the most spread usages of laser is bleaching , the laser job is just to activate the bleaching gel and there is no laser that can directly bleach teeth . laser can increase the heat in a shorter time and increase activation speed of gel. On this method usually use the bleaching products which include the pigments for increasing the energy absorption.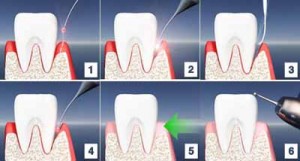 Using laser in bleaching improve the action speed but experiences shows that bleaching at home has the best and the most stable results.
۴-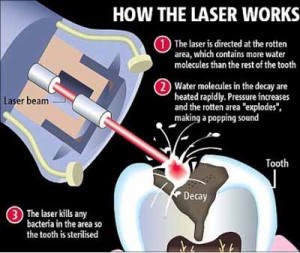 removing decay and making hole
On of the attractive usages of laser for dental patients is using ER:Yag laser as a replacement for scraping and removing the decay. On this laser method , erbium which has the most absorption on the water molecules cause the evaporation moment and expansion of hydroxyapatite crystal bubbles textured production by water molecules sprayed on the surface , the hard dental tissue or bony attracted, and this process cause layer ablation of biological hard tissue .
This method is being very joyful dental treatment and tolerable by deleting the noisy drills.
But this method has its own defects like:
*laser cannot be used for tooth which had metal reparation , but erbium laser is powerful in scraping composite reparation.
*laser is not able to use in cover scraping or deleting decays which are under the past reparation.
*laser cannot present a complete and accurate form of hole so for complete and geometrical hole forming still a dental drill is needed , if only laser used for scraping tooth reparation material is composite.
*tooth must become anesthesia for using this laser , just like using dental drills
But if lower measure of the device energy is used it can be done without ache and using anesthesia injection but minimum energy that is able to ablation the hard tissue is too slow on this condition and this kind of limits force the dentist t use anesthesia and higher energy.
۵-soft tissue surgery:
Almost all the common lasers in dentistry usage are available to cut the soft tissue in "Nd:YAG" diode laser cuts are making by attracting pigment and hemoglobin in the tissue ; while in working with co2 or ER:YAG laser cuttings are made with attracting energy via tissue water , removing soft tissue's wastages or repairing its form are available by these lasers.
Lasers cause the blockage of blood vessels and Inhibition of pain receptor in the cutting area by penetration to the soft tissue and cutting it. That's the reason that patient feel less pain in comparison with casual surgery , working with soft tissue lasers speed up repairing the scar and because it makes less inflammation the pain after surgery is less.
Lasers are useful for removing Malignant cancers and make the cancer sell die. Laser also can activate host's security system .
۶- root treatment
The main purpose of root treatment is cleaning tooth canal. Laser can be used for sterilization the main canal system or secondary canals of tooth. Diode,Nd;YAG and Er:YAG lasers usage with different effects is recommended for this issue. For this kind of treatment canal has to be ready in standard form via file to open the way for at least a 200micron laser fiber.
Recent laboratory studies started to assessment the erbium laser for shaping canal, these studies seems to be promising.
۷- Gum surgery
Erbium laser can be used for deleting Granolyshn tissue or stimulus factors on the root
Surface in gum surgery and in the lengthening tooth surgery for repairing the soft tissue and alveolar bone.
This method's usage is usually on the front of jaw that the wide between bones is less , while in the back of jaw that taking bone needs the flap have been taken on the other side and lengthening has be done by the classic way.
۸- cleaning the gum discoloration
Gums include the livid points near brown that is not pleasure for some patients. By diode or Er:YAG laser we can remove this discoloration and bring the natural pink color to the gum.
۹-photo dynamic therapy
On this method with the special color materials , sells or micro organisms that cause disease will be dyed , the a laser light which has high attraction to the color will radiate.
This cause the mentioned sells and micro organisms clean and remove them from tissue.
۱۰- with low power laser therapy
Low power lasers are lasers with power less than 0/5 w . this kind of laser radiation help to speed up improving inflamed areas frequently and with enough space, with activation and stimulation some Molecular and cellular actions. Its effect is like Physiotherapy for muscular and bone problems therapy.
For example some patients after major surgeries in mouth , got anesthesia or less sensibility in lips or particular points on face. Even maybe the nerve branch has been cut. Without the laser help natural feeling coming back may long several months or even more than 1 year.
But with the L.L.L.T natural feeling coming back is done very easier.
Limits and problems of using laser in dentistry:
If a complete accuracy does not happen while using laser , it can cause serious harms to eye , damage can be due to attracting energy by eye cornea and eye retina.
That's the reason for covering the patient's eye with a glasses while working with laser.
One of the other problems is the high price of laser devices and cast of teaching dentist , assistance and also keeping devices and providing side equipment and its consumptions.
For profiting laser's benefits you have to pay proportionate the services . if you are in group of people who fear the dentistry and its tools , you can enjoy from your treatment by using laser therapy and make a new experience of dentistry.
With the things we mentioned it can be resulted that the most important benefit of using lasers in dental treatments is decreasing pain and side effects after surgery and healing and improving faster on that area.
Decreasing the stress due to the dental turbine and its vibration , in the hard tissue laser.