The usage of laminate in repairing and reforming tooth crest.
Form and beauty of teeth depends on the way of hygiene and care and genetics. Initial tooth difficulty is not assisting to mouth and tooth hygiene or accidents and little hits like cracking or breaking can change beauty and tooth form and had a negative effect on talking and even a person's self-reliance.
Laminate usage increased nowadays, what is that made from?
Laminates are very thin rind that put on tooth. These are from different materials such as composite , ceramics and their installation will create regular, excellent and shiny teeth.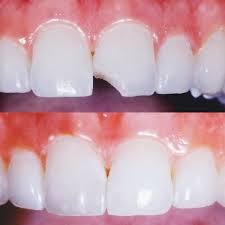 How can the kind of laminate be chosen? What is the difference between them?
Ceramic laminates create in laboratory so form has to be prepared for creating them of teeth after scraping enamel, but in composite method laminates put on teeth directly by dentist. Ceramic laminates are more stable than composite one.
Color stability is more in this laminates, milk the ceramic laminates, composite laminates have less color stability but their benefit on ceramic laminates is that when a problem shows they can easily repair and reform. Closing the kind of laminate often done by dentist and depends on kind of patient's problem.
What is the usage of laminates and what kind of dental problems they can solve?
Laminates are treatment for the beauty that use for removing teeth discoloration reforming irregularity
and also the distance between teeth who can't use the laminates?
People who have not a good hygiene, unsolved gum problem (active infection), hard tooth decay, their tooth texture is intensively broken , have too short teeth, or their enamel is removed, can't be offered to use laminates.